New Artworks




The Gold Of The Birch - oil, canvas
Schesnyak Viktor




Antonov Evgeny




(1925-2011)

Bryansk, Russia

Known for graphics, fine painting and book illustrations, preferred the technique of etching.
He was an honored artist of the Russian Federation,
member of Journalists' Union of Russia and did a lot to contribute development of graphic art in Bryansk region.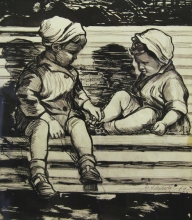 Got Acquainted - ink, paper


This artwork is sold and in a private collection
Available for posters, prints, cards and ecards only.