New Artworks




Golden Rocks - oil, panel
Georgy Mamchur




Radonezhsky Mikhail




(1894 - 1972)

Studied in Penza Art College.
Lived and worked in Ulyanovsk.
Participated in exhibitions since 1932.
Was the chief of Kuibyshev Department od Artists' Union of the USSR.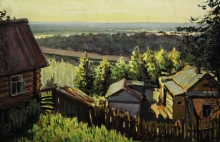 View Of The Volga - mixed technique, paper


This artwork is sold and in a private collection
Available for posters, prints, cards and ecards only.