New Artworks




Flowers. Autumn - oil, canvas
Nina Stasyukova




Uglach Viktor




I was born in Tashkent in 1953.
Graduated from Tashkent Art College named after Benkov, decorator Artist.
I worked at the State Opera and Ballet theater, then at the Art Factory Rassom in Tashkent.
Participated in exhibitions as a watercolors and oil Artist.
My works are in Tashkent State Museum.
I began taking part in art expeditions in Middle Asia, visited historical cities,
later there were trips to the Yenisei and Angara.
In 2008 I made a trip to the Golden Ring of Russia.
Since I was young I was into Japanese and Chinese painting on the wet paper.
You have to make it in 40-45 minutes while the paper is getting dry.

For a long time I worked in Saloniki, Greece, at the "Prestige" Gallery.
I visited many monasteries and gained experience in icon painting.
Upon returning to Russia I took interest in history of Simbirsk
and studied the history and sites of this place.
In 2011 I started a project of Simbirsk – oil paintings with historical places of this city.
I also do monumental paintings and cooperate with designer firms.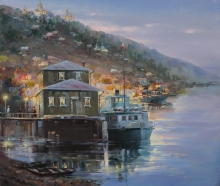 Simbirsk. Evening Pier - oil, canvas




Price: $2,025.00 USD
$ 2,025 USD

Product ID: 25056

or